My name is Dr. Rae Daniel. I hold a Doctorate of Education Degree in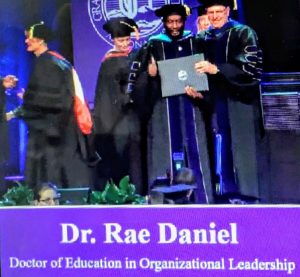 Organizational Leadership with an Emphasis in Organizational Development. The majority of the work that I do as a qualitative research consultant consists of working with graduate students and doctoral learners/candidates in a variety of areas on their thesis or dissertation journey. I have ten years of experience working with graduate students and have an excellent track record of positive results when it comes time for my clients' thesis or dissertation defense.
Do you find it really difficult to meet dissertation deadlines that you set? Do you find it hard to fulfill your ten strategic point, prospectus, proposal and dissertation deadlines especially when there is no great amount of extrinsic motivation coming from colleagues, dissertation supervisors and others?
My expertise in dissertation coaching is a service designed to help you successfully structure the dissertation or thesis process, create realistic work plans, increase accountability and effectively help you overcome internal and external barriers that students experience on the path to earning a doctoral or master's degree.
The dissertation committee members have differing opinions so I cannot promise you that when your document is viewed by all three or four committee members that it be successful on the first read. What I can promise, is that I will do my best to not only help you succeed, but I will help you get everything in your rubrics properly aligned and meet APA standards which are key elements to a successful dissertation defense.
I've assisted students with all components of their thesis or dissertation, including the introduction, literature review, methodology, results, and discussion and conclusion chapters. As a scholar I am also skilled in qualitative case study analysis.
Please feel free to contact me for a free initial consultation if you are looking for any assistance with your thesis or dissertation.
I reserve the right to refuse service or to discontinue service at my discretion.